Where to Go, What to Eat: King Cake popcorn pops up just in time for Mardi Gras | Food/Restaurants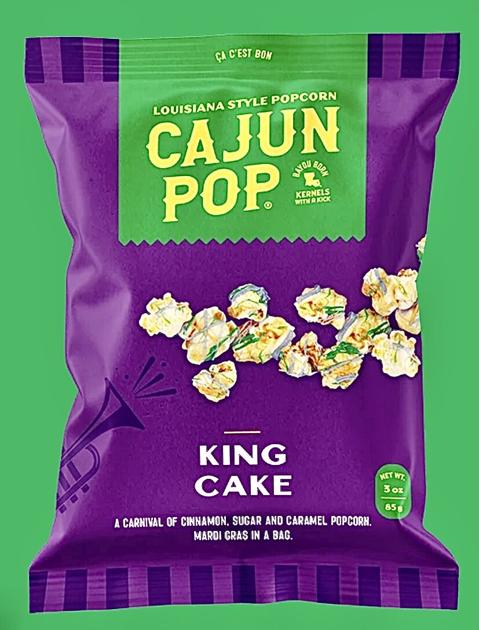 Baton Rouge-based Cajun Pop Louisiana Style Popcorn is now selling online at cajun-pop.com, just in time for Carnival celebrations.
Popcorn flavors include King Cake, Boiled Crawfish, Pecan Pie, Chocolate Pecan Pie, Dat Cheddar, Kickin' Caramel, New Orleans Beignet and Bananas Foster. Each flavor is handcrafted and air-popped.
"I am excited about our King Cake popcorn, which is described as Mardi Gras in a bag," said founder and CEO Mike Coates.
Cajun Pop popcorn can be found on the shelves of Neighborhood Walmarts, Rouses Markets and Associated Grocers.
Wine dinner at Little Village 
The Little Village — Downtown, 447 Third St., is taking reservations for its Captivating Prisoner Wine Dinner at 5:30 p.m. Feb. 9.
The event will include five wines by the Prisoner Wine Co. of California paired with a five-course meal. Cost is $100 per person, which must be paid in advance. Seating is limited, and face masks must be worn except when seated and sipping.
For reservations, call (225) 218-6685.
Super Bowl LV watch party
The Smokey Pit, 1916 Dallas Drive, is hosting a Super Bowl LV watch party from 4 p.m. to 11 p.m. Feb. 7. Watch the Super Bowl on the restaurant's big-screen televisions while enjoying some smoked meats.
For more information, call (225) 923-3998 or visit thesmokeypit.com.
Mardi Gras workshop
Registration is open for a Mardi Gras workshop for ages 7 and older from 5:30 p.m. to 7:30 p.m. Feb. 5 and 3:30 p.m. to 5:30 p.m. Feb. 6 at the Young Chefs Academy of Baton Rouge, 7970 Jefferson Highway.
Learn to make Carnival season favorites, including savory jambalaya and king cake. There may even be a parade in the kitchen.
Cost is $40. Register at batonrougela.youngchefsacademy.com/special-events.
Super Bowl chili cook-off
Do you think your chili is the best? The Oaks Church, 508 N. River Road, Denham Springs, will give you a chance to prove it at its Super Bowl Chili Cook-Off at 5:30 p.m. Feb. 7.
Sign up to compete at forms.gle/rcgKXxUUm9pbuexEA, then show up 20 minutes prior to Super Bowl kickoff to set up. Remember to bring a ladle for your dish and Fritos, cheese and any other sides that complement your chili. You'll be scored on taste, creativity, visual appeal and spice level. Chili will be judged during the first quarter, and everyone will eat during the second quarter. Winners will be announced at halftime.
For more information, call (225) 369-0107.
Registration is open for a Valentine's Cookie Decorating Class from 10 a.m. to noon Feb. 6 at Art Unleashed, 18032 Autumn Drive, Prairieville.
Learn a variety of decorating techniques in this beginners class. Cost is $35 and includes all supplies. To register, call (225) 622-7810 or visit conta.cc/3mBMbGi.
Gourmet oil & vinegar tasting
Le Mercantile de Louisiane, 13460 Coursey Blvd., will host a gourmet oil and vinegar tasting from 6 p.m. to 8 p.m. Feb. 11. Learn to use high-quality olive oils and balsamic vinegars in new and traditional ways, from salads to marinades, seafood to cakes, even cocktails. 
Preregistration is $25 by visiting lemercantiledelouisiane.com/products/oil-vinegar-tasting-event. Admission is $39 at the door.
Music at Leola's Cafe
Leola's Cafe, 1857 Government St., will feature a performance by acoustic guitarist Caitlyn Renee Acoustic during Sunday brunch from 10:30 a.m. to 1:30 p.m. Feb. 7.
For more information, call (225) 256-7052.
Rock Paper Taco to open
Rock Paper Taco, which started out as a food truck in 2018, is planning to open a restaurant at 166 W. Chimes St. in early March.
The space is a 2,100-square-foot building formerly occupied by Po-Boy Times. Owner Joshua Duke, who also owns Olive or Twist, received the permit last week to start $75,000 in renovations for the restaurant, whose focus is creative tacos and cocktails.