Start from scratch for great lemon cake | Taste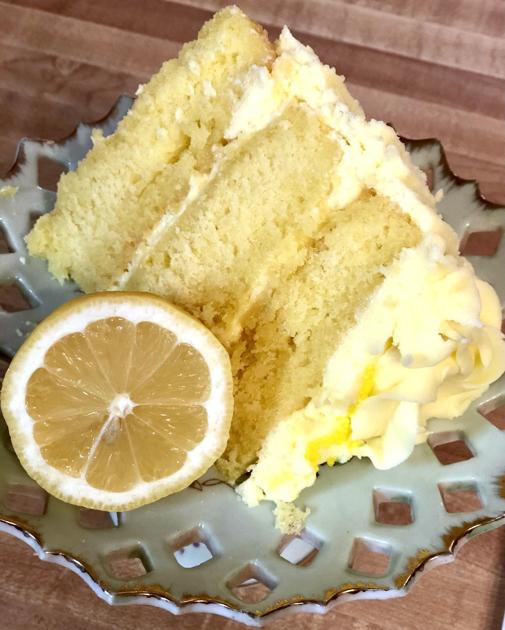 If you are a regular reader of "Life is Sweet," you will know I love all things lemon.
Previous articles included lemon chiffon cake, lemon meringue pie and lemon blueberry muffins. For our Easter meal, I decided to make a cake that seemed to say spring has arrived and, for me, that meant something lemon. I chose to make the "Best Lemon Cake from Scratch" that I found at momlovesbaking.com.
Making a cake from scratch really isn't harder than using a box mix. When you make this cake, you know you are getting true lemon flavor and nothing artificial. Not only is the cake lemon flavored but so is the buttercream frosting. Even though this cake is made from scratch, it turns out light and airy – not dense.
Because of the lemon flavoring, it is not too sweet and the cake gets its lemon flavor from three sources; lemon zest, lemon oil and lemon juice.
When the lemon frosting is added to the cake, it becomes the perfect combination that will win over anyone who loves lemons.
Whenever baking, always remember to completely read the recipe and assemble all your ingredients before starting. Since baking is truly a science, measure the ingredients exactly.
This recipe makes three 9-inch layers so prepare your pans after you assemble all your ingredients. This will give your ingredients time to reach room temperature – about 30 minutes. Line the pans with parchment paper cut to the size of the pans and then use a non-stick spray such as Pam.
The recipe calls for cake flour, such as Swans Down Cake Flour. If you don't have cake flour, you can make your own. Measure 1¾ cups of all-purpose flour with ¼ cup of cornstarch and mix well and this will make a total of 2 cups of cake flour.
For this recipe, double it by measuring 3½ cups AP flour with ½ cup of cornstarch. This makes 4 cups of cake flour as the recipe calls for 3 cups. Use the remaining 1 cup of flour in any recipe that needs flour. It will not affect the end product and using a cake flour gives the cake a more delicate crumb than all-purpose flour.
Why use lemon oil for this recipe? Lemon oil is a natural product and will keep in the refrigerator for a long time. If you don't have lemon oil, you can use lemon extract. The recipe calls for one teaspoon of lemon oil, substitute with ½ teaspoon of lemon extract. Adding a couple drops of gel food coloring will intensify the lemon color of both the cake and the frosting.
Follow the directions for mixing the cake and bake at 350 degrees for 20 to 25 minutes and let the cakes completely cool before frosting.
To prepare the frosting, have your butter at room temperature before starting and beat together with the shortening. Use a high ratio shortening such as Crisco for best results. The recipe calls for lemon juice, but I also added the zest of the lemon to the frosting to give it additional lemon flavor.
Add a couple drops of gel yellow food coloring to help with the lemon color and just remember that food coloring intensifies the longer it is made. Always stop adding color a shade lighter than you wish. Putting your cake in the refrigerator for 30 to 45 minutes will chill it enough to make frosting the cake easier.
You will find the texture and taste is really delicious and it's not complicated to make.
The Best Lemon Cake from Scratch
1 tablespoon baking powder
½ cup unsalted butter, room temperature
4 large eggs, room temperature
1 cup milk, room temperature
1 teaspoon lemon oil – food grade (substitute with ½ teaspoon lemon extract if you can't find lemon oil)
Preheat oven to 350 degrees. Line 3 (9-inch) round pans with parchment paper. Spray with non-stick cooking spray. Set aside.
In a medium bowl, whisk together the dry ingredients (cake flour, baking powder and salt). Set aside.
In a large bowl, beat butter with an electric mixer on medium until creamy. Add sugar and oil. Beat until combined. With mixer on low, add eggs, one at a time. Beat on medium until incorporated. Turn mixer on low, then alternate adding milk and flour mixture. Once it's mixed together, turn mixer up to medium and beat for one minute. Add lemon oil, lemon zest and food coloring. Stir.
Pour batter into prepared pans. Bake for 20 to 25 minutes or until a toothpick inserted in the middle comes out clean. Let cool.
Makes 20 servings once topped with frosting.
1 cup vegetable shortening (such as Crisco)
16 ounces powdered sugar (or 4½ cups)
2 tablespoons lemon juice (Note: I used 1 large lemon for this recipe, zest and juice)
2-4 tablespoons whipping cream
Beat vegetable shortening on medium speed with an electric or stand mixer. Beat for three minutes until smooth and creamy.
Add powdered sugar, lemon juice, yellow gel food coloring and whipping cream with the mixer running on low. Increase to high speed and beat for three minutes. Fill and frost cooled cake layers.
If the frosting is too thick, add a little more whipping cream.Just add one tablespoon at a time, then mix thoroughly until you get the consistency you like.
Cherie Mingus is a retired teacher who taught family and consumer sciences. She can be reached at [email protected]