New cafe opens in House Springs | Local News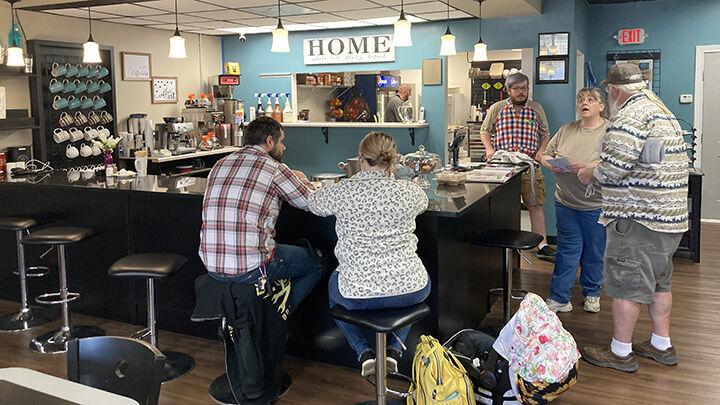 A new restaurant called Hometown Cafe has opened in House Springs and uses all fresh food because the restaurant does not have a freezer, said owners and friends Kris Pike, 43, of Fenton and Cindy Partney, 52, of High Ridge.
The restaurant, which opened March 29 at 14 Gravois Station Road, offers breakfast and lunch.
"It's just a real simple menu," Pike said. "I make my own biscuits and my own sausage gravy. We have a burger and paninis for lunch."
The menu also includes home fries and breakfast sandwiches, as well as baked goods, Pike said.
"I do all the cooking, and she (Partney) does all the baking," Pike said.
Partney said she bakes cookies, cupcakes and breads, and on Fridays, she adds cinnamon rolls, which sell out.
"Everybody seems to like them," she said.
Pike said Hometown Cafe also offers coffee, cappuccinos, espressos and ice coffees.
Pike said he has worked in restaurants for 22 years and always wanted to start one of his own, so he asked Partney to team up with him and open the cafe.
Partney said she worked in restaurants for about 15 years when she was younger and for the past 20 years or so has run a home-based business making and selling custom-order baked goods.
The two have hired three employees and hope to add more in the future, Partney said.
The restaurant is open from 7 a.m. to 2 p.m. Monday, Wednesday, Thursday, Friday and from 6 a.m. to 2 p.m. Saturday and Sunday.
Partney said she and Pike hope to have a grand opening soon, but as of Monday, no plans had been made for one.
However, the two plan to keep their cafe open late on Saturday because a car show will be held at noon until 5 p.m. in the lot, and the cafe will offer carnival food, baked goods and coffee drinks during the event.