Lloyd and Fontella Henry: The brains behind Big Daddy's famed barbecue sauce | Boomtown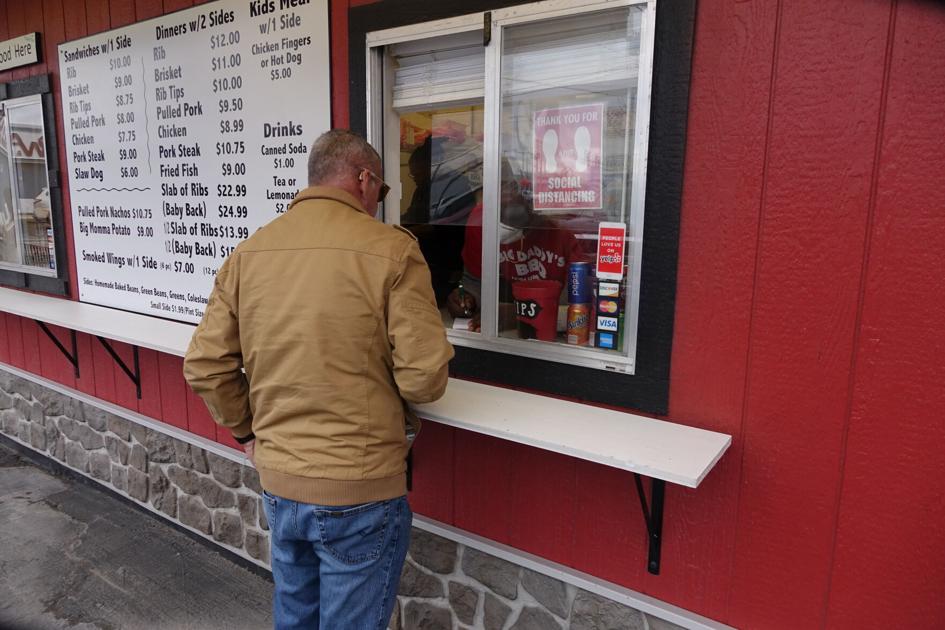 It's 7 a.m. in Columbia, and Lloyd Henry is already hard at work preparing the day's meats for Big Daddy's BBQ.
He and his wife, Fontella, have been cooking and perfecting their barbecue recipes for years, serving the hungry people of Columbia.
They serve most of the barbecue basics, such as pulled pork, brisket and ribs, plus specialty items, such as their wildly popular pulled pork nachos. The pulled pork nachos are a customer favorite when Henry decides to take his cookwagon to an event.
"It unbelievable," he said. "They're a large portion with a layer of chips, pulled pork, baked beans, coleslaw, jalapenos, cheese and barbecue sauce. And they're to die for."
Big Daddy's BBQ sauce is homestyle and sweet, with a bite of spice at the end. Henry has described it as "sort-of Kansas City-style."
"I'm the only one that's made any sauce there," he said. "Starting off, I knew the type of sauce that I like, and the type of sauce that we had always been buying from other people before we opened back up."
He looked at the basic sauces in the region and studied the ingredients. He started mixing them with create different tastes and different amounts, and Bigg Daddy's ended up with the standard that is served today, with one exception.
"Most people like it, but I needed to make one spicier," Henry said.
Demand for a spicier sauce has been increasing ever since the Henrys opened the restaurant. The Henrys have also seen a demand for his sauce to be bottled, which he hopes to sell at the restaurant sometime this season.
The Henrys have been a staple of the Columbia community since 1983. "We've been here longer than anywhere in our lives.' Lloyd Henry said. "Columbia to me means stability. We raised our kids here, and our kids were taught their values here — the importance of people and people skills."
Over the years, the family has made a name for istself throughout the community.
"My wife and I are people people. Everything I've ever done has been with people, and everything my wife has done has been with people." Henry said. "Columbia to me is family. Columbia is home."
Henry met his wife in 1981 while he was attending Northeast Missouri State University, now Truman State University. After getting married in 1983, the couple decided to open their first barbecue restaurant in downtown Columbia in 1987.
Lloyd's Rib House was a staple of Columbia barbecue until Henry decided to sell it and become a State Farm Insurance agent. The itch to cook never left though.
"We always cooked, you know. On the side, gatherings, the whole nine." Henry said.
In 2013, the Henrys decided to go back into the barbecue business with a food truck. But it wasn't long until the buzz started.
"Things started to grow, and things started to happen positively, and we ended up deciding to go into the restaurant we're in." Henry said.
In 2015 they moved into their lot on Garth Avenue, right off the Business Loop.
However, Henry says he can;t do it alone.
"The driving factor? My wife. She is pretty determined to make sure we're successful, because she is really on top of the quality, very serious about the taste, very serious about the fairness in our portions, and she was pretty determined to make sure we follow her guidelines," he said.
It comes as no surprise that Fontella Henry comes from a barbecue family. Her family owned several barbecue restaurants in St. Louis, including her uncle who owned the famous C&K Barbecue. And make no mistake, the influence is prevalent in Big Daddy's sauce and food.
"I would tell someone if you like barbecue, and you like homestyle barbecue, then give it a try," Henry said. "Food brings people together, and barbecue is one of those foods…That's what I like about barbecue."
Big Daddy's BBQ is open from 11 a.m. to 7 p.m. Wednesday through Saturday in spring, summer and fall.