Leftover recipes: Three healthy ideas to reduce waste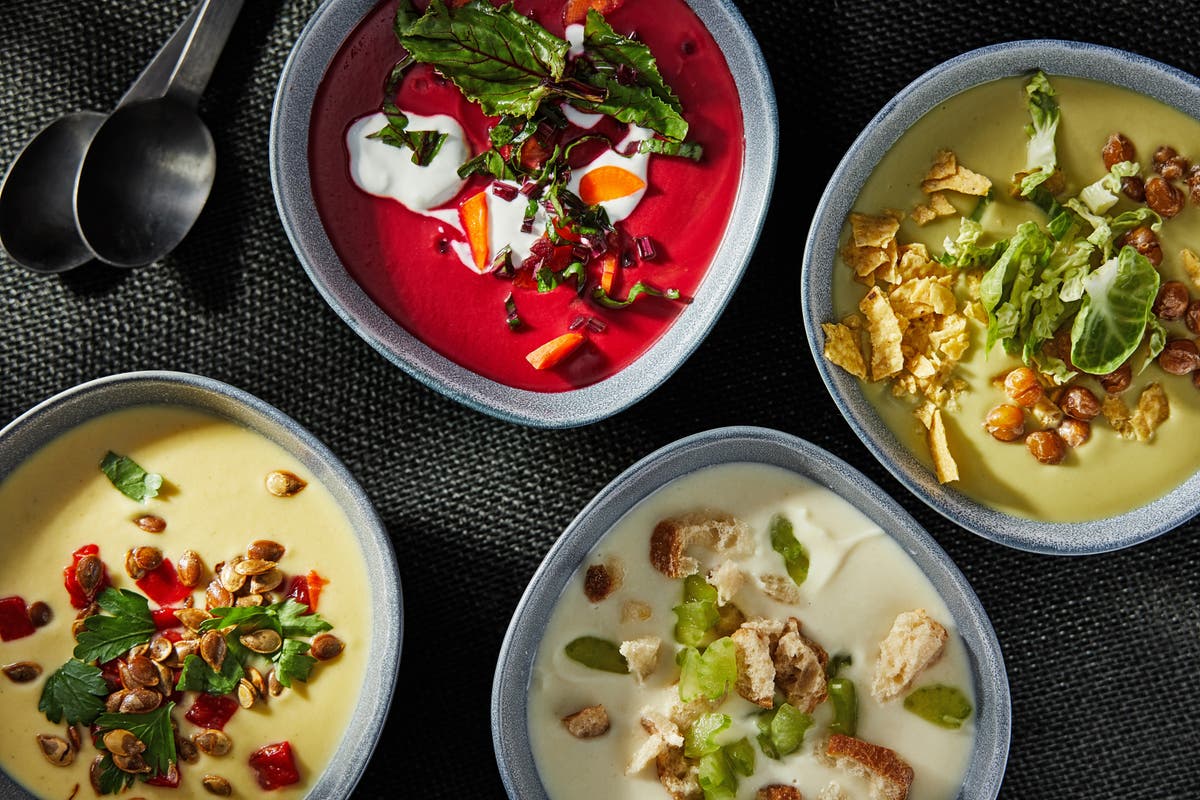 W
e all do it – pick a recipe, then shop for all the ingredients without first looking to see what's hanging around the house. The result? Bits and bobs of extra food without a designated purpose. And that can lead to food waste.
Eating down the fridge and freezer is a worthy goal for the sake of the environment and your wallet, and reduces shopping trips during a time when many of us are trying to go to the store less frequently.
The first step is to get a handle on what you have. If you're really on top of things, go ahead and make a list on a whiteboard on the fridge or an online spreadsheet. Even if compiling an inventory is too much to do at the moment, take a few minutes to dig around before you start making recipe or shopping plans. Pay particular attention to ingredients that are reaching the end of their storage life. Palak Patel, chef at New York's Institute of Culinary Education, recommends using a first-in, first-out system so older items get used first.
Read more:
Based on what you uncover, you can, of course, search for dishes that use those ingredients. Online recipe collections are especially helpful because you can search for multiple ingredients (check out some of the recipes listed below for ideas to riff on). But sometimes even that strategy can feel limiting once you get hung up on a particular dish. When it comes to using what you have, I find flexibility is key. It may even be fun, if you're in the right state of mind. Here are some strategies to consider.
Soup
This is one of the easiest ways to embrace the "throw it all in" mentality. Empty out the produce bin, or grab leftover roasted vegetables. Dig out the bags of frozen vegetables with just a little bit left. That carton with a cup or two of broth remaining? A little wine? A partially used can of diced tomatoes? Start building your broth, supplementing with water as needed and amping up the flavour with umami boosters such as tomato paste or dried mushrooms. Saute whatever aromatics (onions, garlic, leeks) you have, add chopped vegetables and your liquid. Simmer until done (precooked vegetables can go in towards the end just to warm through). Leftover cooked meat also can get thrown in late in the process or be used as a garnish. Pasta odds and ends or extra canned beans can contribute heft.
The best way to turn a hodgepodge vegetable soup into something grand is to puree it with your handy immersion blender. Top with other salvaged items – stale bread toasted into croutons, crisped-up chickpeas, a herb puree or even popcorn.
Even the saddest-looking remnants in the vegetable drawers can be used to make a broth for sipping or future soup endeavors – bonus if you've been saving those scraps in the freezer.
Try: Any vegetable instant pot soup
Active time: 10 minutes | Total time: 30 minutes
By: Joe Yonan
Makes: 4-6 servings
Storage notes: The soup can be refrigerated for up to 1 week and frozen for up to 6 months. Thaw and reheat gently on the stove top.
Ingredients
900g vegetable or combination of vegetables of your choice (see notes below)
400ml can coconut milk
350ml cups water
½ medium yellow onion, chopped
4 garlic cloves, smashed
1tbsp fresh lime juice, plus more to taste
5cm piece ginger, peeled and chopped
1tsp fine sea salt, plus more to taste
Freshly ground black pepper (for serving)
Handful assorted garnishes of your choice (see notes below)
Method
In an instant pot (pressure cooker) combine the vegetables, coconut milk, water, onion, garlic, lime juice, ginger and salt. Close the lid. Make sure the steam valve is sealed. Select "Pressure (High)" and set to 10 minutes (it takes about 10 minutes for the appliance to come to pressure before cooking begins).
Release the pressure manually by moving the pressure-release handle to "Venting", covering your hand with a towel or oven glove. Never put your hands or face near the vent when it's releasing steam.
Use an immersion (hand) blender to puree the soup until smooth (alternatively, you can puree the soup in batches in a blender: to prevent splatters, be careful to not fill it more than halfway, remove the centre ring from the lid, and hold a kitchen towel over the lid as you blend). Reheat if needed by returning the soup to the instant pot and heating on "Saute". Taste, and add more salt and/or lime juice if needed.
Divide the soup among serving bowls, add a handful of garnishes of your choice to each bowl, grind black pepper on top and serve hot.
Note: Here are some possibilities for vegetables and garnishes that work well with them:
Double celery
680g celery root, peeled and cut into 2.5cm chunks
225g (5 to 6 ribs) celery, cut into 2.5cm chunks
Garnish: Chopped celery and leaves, toasted baguette croutons
Broccoli and brussels sprouts
560g head broccoli, trimmed and cut into 2.5cm chunks (stem cut into 0.5cm slices)
340g brussels sprouts
Garnish: Shredded brussels sprouts and whole leaves; roasted chickpeas
Beet and carrot
560g beets, scrubbed but not peeled, and cut into 1.5cm chunks
340g carrots, scrubbed but not peeled, and cut into 1.5cm chunks
Garnish: Thinly sliced beet greens plus any whole small leaves; finely chopped carrots; drizzle of coconut milk
Winter squash
900g acorn, butternut or other winter squash, peeled, seeded and cut into 2.5cm chunks
Garnish: Pumpkin seeds, coriander or parsley, chopped roasted red pepper
Pasta
A one-pot pasta is an ideal vehicle for incorporating random amounts of vegetables and meats. The strategy is a bit like soup. Start with an aromatic base, whether that's alliums cooked in olive oil or rendered fat from something like bacon or pancetta. Add pasta, just enough water to cover and anything else that you want to warm or cook through. Heartier meats and firm vegetables are fine to hang out as the pasta cooks, whereas more delicate greens or seafood should be stirred in at the very end.
Similarly, think about pasta salad. Like the one-pot pasta, it takes well to just about anything you want in there, though try to avoid the kitchen-sink mentality. See what needs to be used and focus on a few ingredients so they can shine when paired with a zesty vinaigrette. Even frozen vegetables will work after roasting. Check your fridge for all those partially used jars of olives, pepperoncini, capers and anchovies. They make an excellent finishing touch, along with the end of that block of cheese.
For something very simple, Patel recommends a pureed vegetable pasta sauce. It's a bit similar to the soup suggestion above, but you'd want to leave the mixture thicker so it coats the pasta. Make it on the stove top or roast an array of vegetables until they're very soft, then blend with a little bit of liquid to get the right consistency.
Pesto is another toss-it-all-in option for pasta, though it's compatible with sandwiches, salads and grilled meats as well. "Pestos can be made with frozen peas, edamame, parsley, any herbs, nuts and seeds," Patel says. Ditto greens – kale, spinach and carrot tops are all fair game.
Try: Lunch box pasta salad
Makes: 4 servings
Ingredients
225g wholegrain fusilli pasta
3tbsp extra-virgin olive oil
1tbsp red wine vinegar
1tsp dried oregano
1tsp dried basil
1 small clove garlic, minced (about 1tsp)
½tsp salt
¼tsp freshly ground black pepper
1 medium yellow bell pepper, diced
140g plum tomatoes, quartered
70g cooked, chilled, coarsely chopped broccoli
170g fresh, part-skim mozzarella cheese, cut into 0.5cm-to-1.5cm dice
Method
Cook the pasta al dente according to the directions on the package. Drain, then transfer it to a large bowl, toss with 1 teaspoon of the oil and allow it to cool completely.
Whisk together in a small bowl the remaining 2 tablespoons plus 2 teaspoons of olive oil, the vinegar, oregano, basil, garlic, salt and black pepper to form a dressing.
Add the bell pepper, tomatoes, broccoli, mozzarella and dressing to the pasta, and toss to combine.
Stir-fry
Fried rice is at the top of the list when it comes to improvised, thrifty meals. Whether you're using home-cooked rice or takeout leftovers, or even that bag of frozen cooked rice you bought on a whim, it's all good. (Other grains work great, too – one of my favorite renditions lately involved leftover cooked barley.) Frozen or fresh vegetables work. Try to keep all the ingredients about the same size, putting longer-cooking vegetables in first. Consider cooking raw meat first and then removing it to avoid overcooking, returning it to the pan at the end, which is when already cooked meat can be stirred in just to warm through. Nuts (who doesn't have partially used bags sitting around?) add crunch and protein. Eggs, another fried rice staple, can round things out.
Even without rice, you can stir-fry your way into dinner. While the technique is most closely associated with Asian cuisine, take your pick of proteins and vegetables to saute over medium-high to high heat and nudge it in a variety of directions depending on what else you need to use. Briefly bloom your choice of spices (ground or whole) in the pan before proceeding with cooking. Or flavour the dish at the end with your favourite spice blend, whether that's za'atar, garam masala or Cajun-Creole. I've been known on many occasions to transform whatever extra vegetables are hanging around into a quick batch of frying pan fajitas. Surplus yoghurt could be turned into a great accompaniment to many quick-cooking dishes, especially those with a Middle Eastern or Indian bent. Think tzatziki or raita.
For something saucier but still stove top, don't forget about curries, Patel says, which are great for using "loads of veggies". Start similar to a stir-fry, loading up on aromatics (ginger, garlic, curry paste). Then add whatever veggies (fresh or frozen) and meat you'd like to cook, as well as a liquid for simmering. This is where you can finally pull out that container of coconut milk from a partially used can, which I always seem to have in the fridge, as well as broth. Simmer, covered, until everything is tender and cooked through.
Try: Better than takeaway fried rice
Prep note: Toast the nuts in a small, dry frying pan over medium heat until fragrant, 3 to 5 minutes, shaking the pan a few times to avoid scorching. Let cool completely before using.
Adapted from a recipe by cookbook author Grace Young posted on TheKitchn.com.
Ingredients
60ml plus 1½tsp grapeseed, canola, peanut or vegetable oil
2 large eggs, beaten
One 2.5cm piece peeled fresh ginger root, minced (1tbsp)
Pinch crushed red pepper flakes
1 medium carrot, cut into 0.5cm dice (peeled or scrubbed well)
80g fresh or frozen corn kernels, defrosted
30g fresh or frozen green peas, defrosted
500g cold cooked rice
26g chopped spring onions (white and green parts)
¼tsp salt
¼tsp ground white pepper
1½tbsp soy sauce
25g pine nuts, almonds, peanuts or cashews, toasted (optional; see prep note, above)
Method
Heat a 30cm stainless-steel frying pan over medium-high heat. When a few drops of water flicked over the surface evaporate in a second or two, the pan is at the right temperature.
Swirl in 2 tablespoons of the oil to coat the bottom of the pan. Add the beaten eggs and tilt the pan so that they spread, covering the surface like a crepe. Cook for about 30 seconds to 1 minute, until it's just set. Use a thin spatula and flip the eggs over; cook for 5 seconds to make sure they are thoroughly cooked through. Slide the eggs onto a cutting board, then cut into strips.
Wipe the pan clean, then return it to medium-high heat. Repeat the water test to make sure the pan heat is the right temperature.
Pull the pan off the heat, add 1 tablespoon of oil, swirling the pan to coat the bottom and sides. (If the oil begins to smoke, the pan is too hot. Let it cool for a few minutes, wipe it clean, wash and start again.)
With the pan back over medium-high heat, add the ginger and crushed red pepper flakes; stir-fry for 10 seconds, or just until fragrant.
Add the carrots; stir-fry for 30 seconds, or until they turn a brighter shade of orange. Add the corn and peas; stir-fry for 1 minute.
Make a small clearing in the centre of the pan and pour the remaining 1 tablespoon plus 1½ teaspoons of oil into the pan, then swirl to distribute. Add the rice and spring onions; stir-fry for 2 minutes, breaking up the rice with a spatula until the rice is heated through. Season with the salt and white pepper.
Pour the soy sauce around the edges of the pan, then stir-fry to incorporate it. Return the cooked egg to the pan, along with the nuts, if using, tossing to incorporate. Stir-fry just until the egg is just warmed through.
Serve right away.
Roasting
For minimum effort, take comfort in the fact that so many types of foods can simply be thrown on a baking tray and roasted. A tray of vegetables makes a no-fuss side, or use them to top a grain bowl or pasta. I tend to like my vegetables roasted at 200C at a minimum, though for heartier options that benefit from crispy edges (broccoli, cauliflower), I will go up to 220C or 230C. Keep in mind that different vegetables may cook at different rates, so if you are mixing multiple kinds, keep them on separate sheets or divided on the same sheet. You can also cut longer-cooking vegetables into smaller pieces, so they finish more in line with quicker-cooking ones.
It's easy enough to turn a tray of roasted food into a baking tray supper. Pepper, sweet potato and mushroom fajitas are a favorite in my house, while meat eaters can check out baking tray chicken fajitas. Both will take well to many kinds of vegetables. For smaller amounts of ingredients, add some eggs for an all-in-one baking tray frittata.
Try: Colourful roasted vegetables
By: Asha Gomez, I Cook in Color: Bright Flavors From My Kitchen and Around the World (Running Press, 2020)
Active time: 25 minutes | Total time: 50 minutes
Makes: 6 to 8 servings
Storage notes: Leftovers can be refrigerated for up to 4 days.
Where to buy: Black mustard seeds can be found in Indian markets, many pan-Asian supermarkets or online.
Ingredients
1 small pineapple, peeled and cut into 0.5cm slices
2 sweet potatoes, peeled and sliced into 0.5cm circles
2 medium beetroots, peeled and sliced into 0.5cm circles
6 small vine-ripened tomatoes, on the vine
1 large fennel bulb, cut into 0.5cm slices
225g mini multicoloured sweet peppers
118ml extra-virgin olive oil
2tsp fine sea salt
2tsp granulated sugar
2tsp cumin seeds
1tsp black mustard seeds (optional; may substitute yellow mustard seeds)
245g full-fat Greek yogurt
85g honey
Method
Position three racks in the upper, centre and lower sections of the oven and preheat to 200C. Line three large, rimmed baking trays with baking paper, and spread the fruits and vegetables across them (keep all the ingredients in one layer, if possible).
Drizzle the olive oil and sprinkle the salt, sugar, cumin seeds and mustard seeds, if using, evenly over everything. Roast for 25 to 35 minutes, or until the sweet potatoes and beets are fork tender.
Swoosh the Greek yogurt on one end of a large serving platter. Place the beetroot on the yogurt and arrange the rest of the fruits and vegetables on the platter. Drizzle with the honey and serve warm or at room temperature.
© Washington Post