Got Zoom Fatigue? These Interactive Cooking Demos Offer a Cure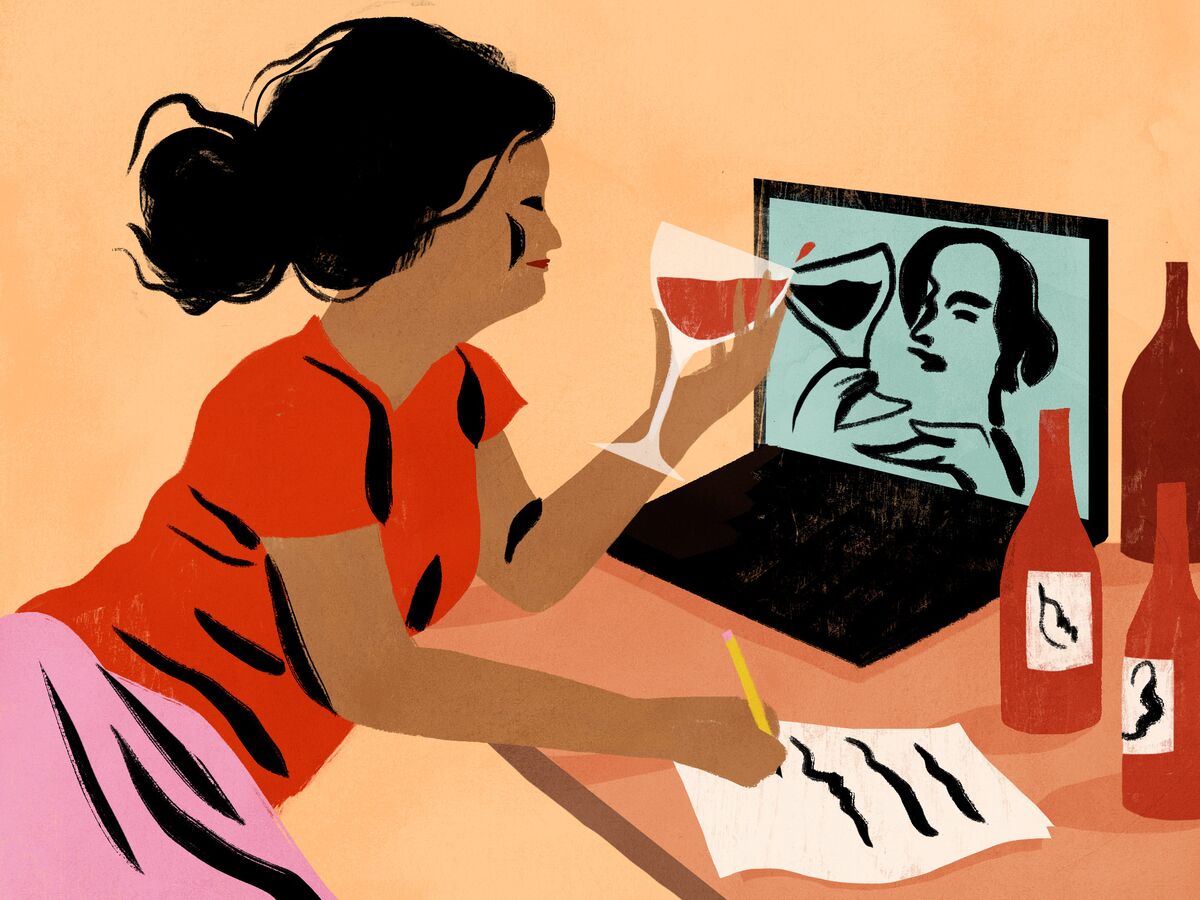 Zoom fatigue is palpable—researchers at Stanford have even found it to be a condition that can be clinically diagnosed.
But it's much less tiring when you're using the platform to watch the duo behind Dos Hombres mezcal, Bryan Cranston and Aaron Paul, describe the almost mystical way in which their Oaxacan distiller arrives at the liquor's 84 proof designation. After some technical talk on heat cycles and ABV percentage, Cranston steals the famous line from his Breaking Bad co-star and yells out, "It's science, bitches!"
An entire industry of virtual, interactive cooking sessions and wine tastings is in full bloom on Zoom, but after testing out a range of relevant services, the most rewarding examples are the ones that—surprise!—are also highly entertaining. We used to go to dinner and a show. Now dinner is the show.
One of the best I've seen so far is Bollywood Kitchen. Billed as live culinary theater, it's basically a one-man play formed as a collaboration between filmmaker and cookbook author Sri Rao and the Geffen Playhouse.
What would otherwise be a straightforward 90-minute kitchen demo—an Americanized chana masala prepared alongside a Mumbai Mule cocktail—is interspersed with a half-dozen classic clips of Indian cinema that Rao picked. (I was especially enchanted by a dance sequence from the legendary actress Madhuri Dixit.) Every so often, Rao steps out of his open kitchen to share a poignant story about his life as a gay, first-generation immigrant growing up in rural Pennsylvania.
Beyond the dynamic nature of its presentation, Bollywood Kitchen is also notable for its three-tiered pricing. For $40 you can simply observe; $95 gets you a recipe box shipped to your door; and for $175 you receive all that plus a seat at the "Chef's Table," which includes the opportunity to ask Rao questions directly in Zoom's chat feature. In the performance I saw, he allocated a significant amount of time to interact with the live participants. Bollywood Kitchen's 32-show run concluded in early March, but a spokesperson for the Geffen Playhouse confirmed that additional interactive programming will be announced soon.

Several other sites are leveraging star power to fill Zoom rooms. Wine.com offers live virtual tastings every week, buoyed by the many Hollywood types now crowding the spirits space. In addition to Cranston and Paul, recent A-listers have included Cameron Diaz, promoting her Avaline wine; Sting, who shared three bottles from his Il Palagio Italian vintage; and John Legend, who broke into song during a tasting of his LVE label. Typically less than an hour long, the events are free to join, and attendees are given the opportunity to buy the relevant liquids and submit questions ahead of time.
New York fixture Murray's Cheese is now enjoying nationwide attention, thanks to its Zoom-based courses. The curriculum includes lessons in building a perfect charcuterie board ($110), and Murray's will send you curd ahead of time to learn how to make your own burrata and mozzarella ($90). The lively hourlong lessons are filled with ample servings of technical insight. And who doesn't love a chat that opens up with "Hello? Is it Brie you're looking for?"

Ultimately, the value of any of these experiences is much more a function of personality than technology. Zoom is merely the vehicle. Which means you'll need to find the right driver to take you where you want to go. I found mine through Table22, a subscription platform that's essentially a Patreon for the restaurant industry. In addition to cooking classes, it offers monthly meal kits and professionally chosen pantry staples.
It was here that I linked up with the affable Kelly English, chef and owner of Restaurant Iris in Memphis. For $60 you get three classes a month, in which he alternates from guiding aspiring chefs through crafting basic condiments—such as mayonnaise or aioli—to arranging an elaborate regional delicacy such as crawfish étouffée.
From his modest home kitchen, it took English about 100 minutes to proceduralize the platonic ideal of eggs Benedict. Through the glowing screen, he even showed me how to forever avoid "shrapnel" when cracking my eggs. Everyone cracks the shell on the edge of a surface—a bowl, a pan, a stove—but you should really crack it against a flat surface such as the middle of a table or cutting board. It breaks cleanly, and the shell never goes inward.
The only downside to all this Zoom cooking? When it's time to clean the kitchen, the laptop extends no relief. Some things just can't be left to virtual devices.