Famous GEICO cloggers part of statewide dance competition in Pocatello | Local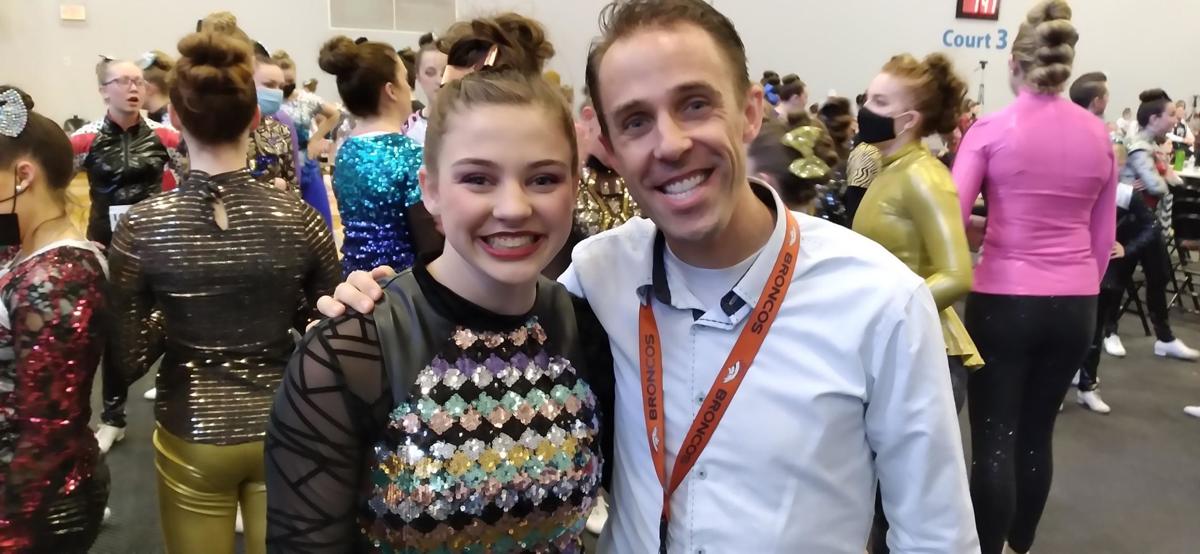 POCATELLO — Bailey Tucker returned to school from Utah's coronavirus-related lock-down last spring as a television celebrity — part of a now-famous family of clog dancers.
Households from throughout the country have seen the wildly popular commercial for GEICO Insurance, titled "Clogging Problem," featuring the dancing Tuckers, of Salt Lake City. The commercial has been downloaded on YouTube more than 9 million times. 
The Tuckers came to Pocatello Friday and Saturday to help run a clogging competition at the Mountain View Event Center that drew more than 1,800 dancers from throughout Idaho, Wyoming, Montana and Colorado. Qualifiers from Pocatello move on to the America on Stage national clogging finals in Salt Lake City in May. 
Bailey, 17, was among the competitors at the MEC. Her father, Greg, is the president and owner of America on Stage.  
"I grew up clogging. My parents met clogging. Being the oldest, I was clogging since I was 18 months old," Bailey said. "It's like my life, and it's such a fun thing when you can transfer the energy from you and your passion of dance to the audience."
Fans of the GEICO commercial often reach out to Bailey online, and she admits that close friends and extended family still "fan girl" over it. 
Though the Tuckers acknowledge their moment of fame has been fun, the allure of clogging to them is being part of a tight-knit and fun-loving group. 
"Clogging is a fantastic activity. It is aerobic," Greg said. "But the best part of clogging is this part. We are best friends. You're involved in a club. You're involved in exercise. It can take you lots of places."
Lia Packard, 8, traveled to Pocatello from Ogden, Utah, to dance. She's been clogging for half of her life. Everyone gets a trophy at the competitions, but on Friday, Lia also won three first-place pins for her dancing. 
"There's so many great people, great values," said her mother, Amy Packard. "It's a great community and we support each other."
Clogging, in addition to square dancing, is one of two distinctly American forms of folk dance. It's like tap dance, but the shoes have double taps that jingle with each stomp. 
"Clogging has evolved a lot," explained LaChere Vawdrey, who once danced with her sisters on "America's Got Talent" and spearheads the Pocatello clogging qualifiers. "It was very traditional at one point. Now it incorporates tap, Irish dancing and hip-hop. … We still like our roots but we're no longer just country bumpkin."
Greg, who teaches clogging at Brigham Young University in Provo, Utah, considers Eastern Idaho to be a true clogging hotbed. He anticipates about 500 dancers from the Gate City alone will participate in the state finals in Salt Lake City; he predicts Eastern Idaho will be represented by at least 2,000 dancers. 
"We're obviously seeing clogging growing all of the time," Greg said. "People will say to us, 'Where can I clog? … Shocking to say, it exists heavily in Pocatello. It is ginormous here."
A good friend referred the Tuckers to GEICO when the company was seeking the perfect family for its commercial. They submitted a pair of videos during a month-long selection process in January of 2020. GEICO was looking for a family that could clog classically, and the Tuckers fit the bill. 
"Initially we were a little nervous that they would make fun of clogging since that's what we do," Greg said. "We had first suggested that if it was going to be something that was embarrassing to our kids it would be a hard thing doing something that made our lives less fun." 
After receiving the script, however, the Tucker's were delighted by the concept and found it to be hysterical. 
The commercial begins with a sleep-deprived couple describing the perks of their new apartment, with its ample natural lighting and beautiful hardwood floors. But they acknowledge there's a "bit of a clogging problem."
Rather than panning to the kitchen sink or the pipes, the camera cuts to the upstairs apartment, where the Tuckers, dressed in traditional garb, clog dance nonstop throughout the evening while simultaneously eating spaghetti, brushing their teeth and folding laundry. 
The commercial hit home to Vawdrey, whose feet have been known to spontaneously break into clogging at the grocery store. 
Photographs in the upstairs apartment were all actual pictures of the Tucker family: Greg and his wife Maria and their children Bailey, Garrett, 15, and twins Olivia and Grayson, 11. 
While the dancing came easily, getting Grayson to eat cold spaghetti was a challenge. 
"We had a blast," Greg said. "We love it. We never get sick of it." 
It's likely that the commercial helped GEICO sell a lot of insurance policies. More importantly to the Tuckers, it exposed countless Americans to their favorite pastime. 
When new acquaintances learn that Greg and Maria are clogging instructors, they invariably ask them if they know the people from the GEICO commercial. The follow-up question is usually, "Why were you wearing Amish clothing?"
"We have been clogging our whole lives and we know most of the people in the country that clog. … We love the fact that (the commercial) did show off clogging to the world and we've gotten so many comments and emails," Maria said. "It's been neat to see how many people have reached out to us and said, 'What you do is so cool and I didn't even know it existed.'"