Familiar faces: The Dinsmores | Departments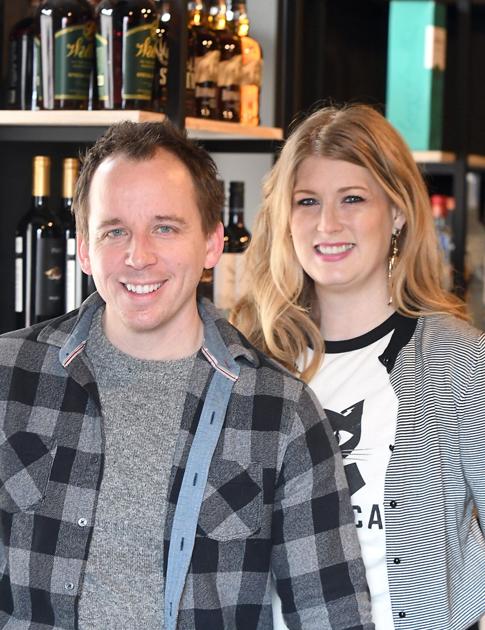 Wine Cafe owners remained busy during pandemic
Music. Wine. Beer. The iconic rooftop martini glass lighting Mankato's skies. And, of course, wine. 
The Wine Cafe Pub & Eatery, at 301 N. Riverfront Drive, has been the home away from home for many — a place to escape the 9-5 grind and enjoy a glass of wine, or a beer, for the last 18 years. 
The Mankato staple had been previously owned by Diana and Mike Bauman, who had for years been catering to the downtown location. As regulars, the Dinsmores decided to purchase the Wine Cafe with new visions in mind, including an outdoor patio.
Emily and Dan Dinsmore bought the Wine Cafe in 2019. 
And as many other small businesses across the world, the Wine Cafe came with its own set of challenges during the COVID-19 pandemic. 
The Wine Cafe closed its doors temporarily mid-November: "We are making the difficult decision to close our doors temporarily. We value the safety of our staff and patrons (all of whom feel like family to us) above all else," they stated on a Facebook post.
But as of late January, the Wine Cafe has again opened its doors, now featuring unique craft mixed drinks for Mankatoans to enjoy.
MANKATO MAGAZINE: Photography studio. The Capitol Room. Pottery studio. And finally a bar. What have been some of your favorite experiences of opening these businesses?
DINSMORES: Both of us have a major love of art, design and history. We have a big collection of kitschy retro items and antiques. All of our businesses have been a great outlet for these passions.
MM: Since taking ownership of the Wine Cafe, what would you say has been the most rewarding aspect of owning a Mankato staple?
D: The people! One of our best attributes is our staff. Three of our bartenders have worked here for a combined 37 years. If you are here once, you are a regular. We have a wide variety of clientele. On any given night we will have professionals, farmers, cabinet makers, service industry workers, artists, musicians, etc. in the mix of the crowd. The Wine Cafe is truly a melting pot. The breadth of our demographic is a testament to this time-tested establishment. Dan and I both love to entertain.
MM: On the other hand … What have been some challenges you've encountered?
D: You either have enough time or money, but never both at the same time to do what you want.
It's always a major balancing act trying to get a big project done, especially when you have young kids. There are so many things to keep track of at once and that means some late nights and long hours.
MM: For a period, the Wine Cafe remained with closed doors during the ongoing pandemic.
What are some things you guys are excited about to reopen the doors to the public?
D: We reopened (January) with limited menu items and operating hours. We are
extremely excited to be back at full capacity with regular hours. Live music is in our DNA. We can't wait to get back to our regular weekly live music routine. We will have a concert series this summer in cooperation with KMSU out on our new patio expansion. We are also working right now to add some great new food and drink options.
MM: Before owning the Wine Cafe, it was one of your hang-out spots. What about the Wine
Cafe was it that drew you to purchasing the establishment?
D: The Wine Cafe is a staple in Old Town Mankato. It has a relaxing, come-as-you-are feel.
Coupled with our bar and restaurant, we have a small shop that offers offsale great wine, beer and liquor.
MM: Tell us about the Wine Cat. Where did the name come from and how has the renovation been going?
D: I was inspired while scrolling on Pinterest. I was saving funny wine memes for social media ideas and so many had cats. The name literally just popped into my head. We thought the shop remodel was years off, but the pandemic presented the perfect timing. It was one big silver lining to the closure. We are called the Wine Cat but we will have a great selection of beer, liquor as well as some hard-to-find bourbons. We have new paint, new floors, and a new brand. The cabinets and shelves are being installed and it should be done in a few weeks(we hope)!
MM: What are some things that people might not know about being a small business owner?
D: It's hard, hard work. There is no such thing as clocking out. You have to think on your feet and be ready for anything (like a pandemic).
MM: Besides running some awesome local businesses, what are your hobbies?
D: There are too many to list. Live music for both of us. Dan loves to fish! We also love hiking, taking our two boys on adventures, bonfires and hosting game nights with music, food and drinks.
MM: Tell us something about yourselves that people would be surprised to find out.
D: I (Emily) was a history major and a hair stylist. I'm also an aspiring minimalist (previously an avid antique collector). Dan started his post-secondary education in animation and opened his own photo studio at 22. We have two pugs, a cat, a tortoise, a hedgehog and nine chickens.
MM: Anything else you'd like to add?
D: Thanks to everyone who has supported us through all of these endeavors. A very special thank you to our families. Can't wait to see everyone on the other side of this! Please come buy stuff from us. Please. (Haha).