Cook This: Apple Buttermilk Crumb Cake satisfies when you need a nibble | Food/Restaurants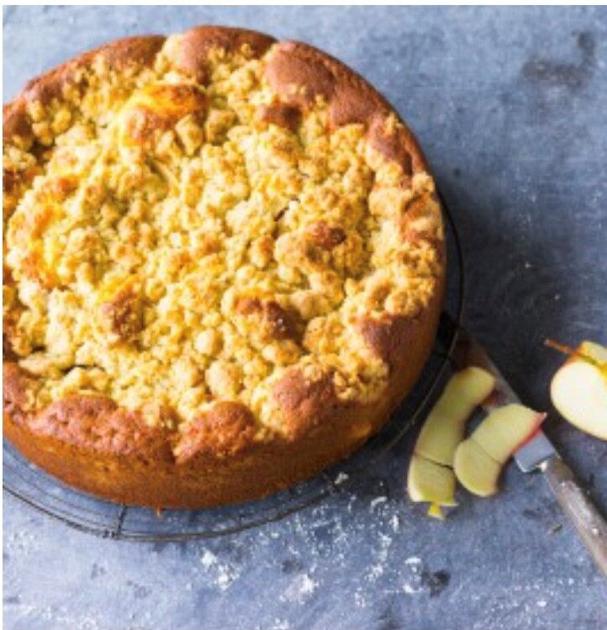 If cake is part of the name, then we're saving that recipe.
This one for Apple Buttermilk Cake contains two other words we love.
The Granny Smith apples and the buttermilk give this cake a delicious, slightly tart flavor, further enhanced by the lemon zest.
The almond topping finishes it on a sweet note. 
So when you've got to have a little something-something mid morning or after a meal, this cake will provide the perfect nibble. 
Apple Buttermilk Cake
Makes 10 servings.
2 cups all-purpose flour
2 teaspoons baking powder
½ teaspoon salt
¼ cup (½ stick) butter or margarine
½ cup sugar
½ cup packed brown sugar
1 large egg
½ cup buttermilk
2 cups cored and finely chopped Granny Smith apples
1 teaspoon grated lemon zest
TOPPING
⅓ cup all-purpose flour
⅓ cup brown sugar
⅓ cup chopped blanched almonds
½ teaspoon cinnamon
¼ cup (½ stick) butter or margarine (softened)
1. Topping: Soften butter, stir in flour, brown sugar, almonds and cinnamon; set aside.
2. Heat oven to 375 F. Grease and flour a 9-inch baking pan.
3. In small bowl, combine 1½ cups flour, baking powder and salt; set aside.
4. In large bowl, beat butter and both sugars until blended; beat in egg. Add buttermilk and flour mixture alternately, mixing just until blended.
5. Toss apples with remaining ½ cup flour; add to batter with lemon zest. Spread batter in baking pan. Sprinkle on topping.
6. Bake 35 to 40 minutes or until wooden pick inserted in center comes out clean. Cool completely. 
Nutritional information per serving: calories 325, protein 5g, fat 12g, carbohydrates 50g, fiber 2g, sodium 276mg, cholesterol 46mg