Best Chicken Yakisoba Recipe – How To Make Chicken Yakisoba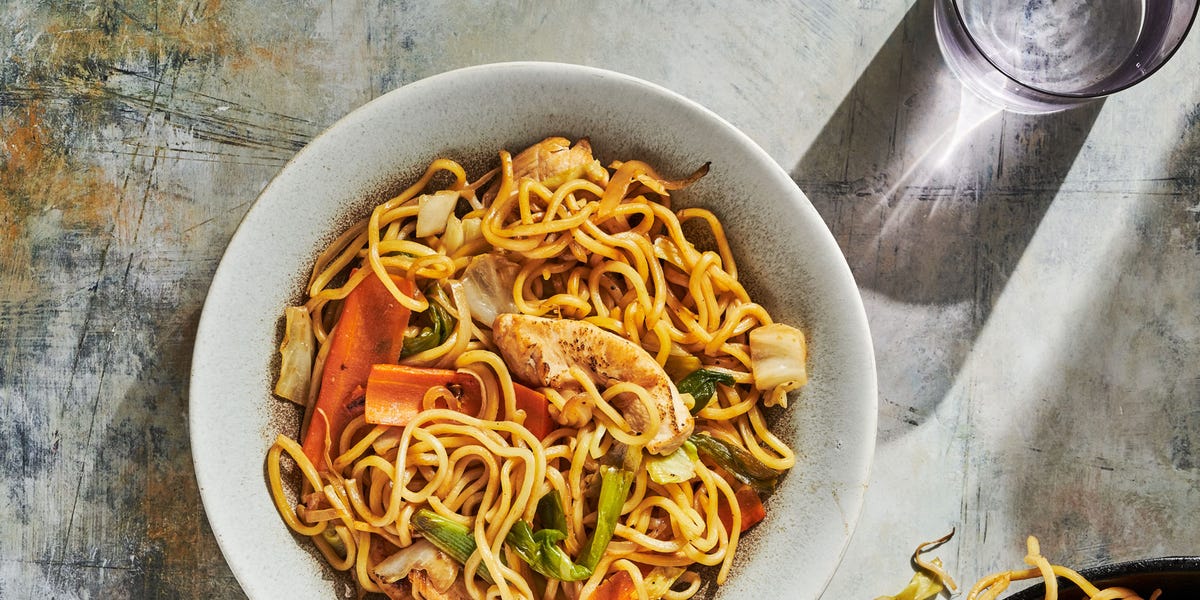 Yakisoba belongs on the stir-fried noodle dish Mount Rushmore. Yakisoba is an insanely popular dish that first started appearing in Japanese food stalls in the 1940's. When you think of soba noodles you may be reminded of the buckwheat noodles often served cold with a dipping sauce, but in Yakisoba, the noodles are made of wheat and resemble something similar to what you'd see in a lo mien.  The noodles are often cooked on big flat top griddles, chock full of all type of ingredients from pork belly to kimchi. We went with chicken for this recipe but feel free to throw in whatever you want.
The key to a good yakisoba is the noodles and the sauce. You can often find refrigerated yakisoba noodles in the supermarket in a small plastic pack but if you can't find them, you can go for something like spaghetti or even well drained ramen in a pinch. As for the sauce, you can find awesome store bought versions (it often even comes in the yakisoba noodle packages). But if you can't find it anywhere or simply want to learn to make your own, we included an easy and delicious recipe below.
Tried this recipe? Let us know how it came out in the comments below.
Advertisement – Continue Reading Below
Yields:

3
– 4

servings


Prep Time:

0

hours

10

mins


Total Time:

0

hours

35

mins


2
tbsp.

Worcestershire sauce
2
chicken breasts, cut into 1 1/2″ strips
Freshly ground black pepper
3
tbsp.

vegetable oil, divided
1
carrot, cut into 1/4-inch planks 
1/2
green cabbage, roughly chopped
3
green onions, cut in thirds 
1
16-oz. package yakisoba noodles (such as Maruchan)
This ingredient shopping module is created and maintained by a third party, and imported onto this page. You may be able to find more information about this and similar content on their web site.
In a small bowl, whisk Worcestershire, soy, ketchup, oyster sauce, and sugar until combined and set aside. Season chicken strips liberally with salt and black pepper. In a heavy bottomed skillet over medium-high heat, preheat 2 tbsp of oil. Add chicken and cook, turning occasionally, for 7 minutes until browned and just cooked through. Remove chicken from the work and set aside.
Add 1 tbsp of oil to the skillet before adding onion and carrot. Sautè until the carrots and onions are just softened, 3 minutes. Add in the cabbage, scallion, and bean sprouts. Stir fry for 4 to 5 minutes until the cabbage has wilted slightly and some of the vegetables have begun to brown. Season with salt and pepper.
While the chicken and veggies are cooking, prepare the yakisoba noodles according to the package instructions but save any added seasoning packets or sauces for a later use. Make sure your noodles are thoroughly drained after cooking. When ready, add drained noodles to the skillet, mix until the veggies are evenly distributed. Add the cooked chicken and yakisoba sauce and toss everything to coat. Stir fry for an additional 2 to 3 minutes until everything is mixed and the noodles start to brown in places. Serve immediately.
This content is imported from embed-name. You may be able to find the same content in another format, or you may be able to find more information, at their web site.
This content is created and maintained by a third party, and imported onto this page to help users provide their email addresses. You may be able to find more information about this and similar content at piano.io
Advertisement – Continue Reading Below