Anne DiGeronimo – Obituary – Mahoning Valley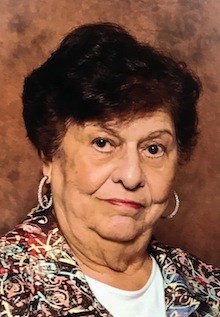 July 28, 1922 — April 13, 2021 (age 98)
NILES — Anne Di Geronimo, 98, passed away Tuesday (April 13) at Hospice of The Valley Hospice House in Poland with her daughters by her side.
Anne was a 1940 graduate of Niles McKinley High School and attended Youngstown College studying business.
She was employed as a men's furnishings buyer for Griswold's Department Store which later became Strouss, as well as Macy's and Kresge's Department Stores in Newark, N.J.
She also worked at Carlisle's Department Store and owned and operated Vincent's Ice Cream Shop in the Village Square, Niles, for 27 years.
She was a lifelong member of Our Lady of Mount Carmel Parish in Niles, celebrating her baptism, first communion, confirmation and marriage there.
She was a member of the Mt. Carmel Society and a Trumbull Memorial Hospital volunteer for 27 years.
She and enjoyed baking bread and her famous sticky buns, cooking, shopping and entertaining.
Her kitchen was always open and a place at the table was waiting for you. 
She was sassy, witty, thoughtful and loved to have fun. 
She was married for 65 years to her husband, Vincent who passed away Jan. 8, 2017.
They resided in New Jersey until moving back to her hometown in 1971. 
She will be sadly missed by daughters Mary-Beth (Brad) Owen of Evansville, Ind., and Nancy (Bob) Walker of Warren; grandchildren Nicole Kaufmann of Los Angeles, Alex Owen (Abi Armstrong) of Chicago, Courtney Young (Erik) of Chicago and Michael Walker of Nashville; and many nieces and nephews whom she adored. 
She was preceded in death by brothers Frank Salerno, Nick Salerno, Sam Salerno and Albert Salerno; and a sister, Mary Corea.
Friends may call Monday (April 19) from 9:30 to 10:30 a.m. at the Joseph Rossi and Sons Funeral Home in Niles. Guests are kindly asked to depart the funeral home after paying respects. Social distancing and facial coverings are mandatory. A Mass of Christian Burial will begin at 11 a.m. at Our Lady of Mount Carmel Catholic Church in Niles where social distancing and facial coverings are mandatory.
Private burial will be in Niles City Cemetery.
Material contributions can be made to St. Jude's Children's Research Hospital, 262 Danny Thomas Place, Memphis Tenn. 38105 or Our Lady of Mount Carmel Church Project 20/20, 381 Robbins Ave., Niles Ohio 44446.
To send flowers to the family or plant a tree in memory of Anne DiGeronimo, visit our floral store.