10 of the best pizza places in Northeast Ohio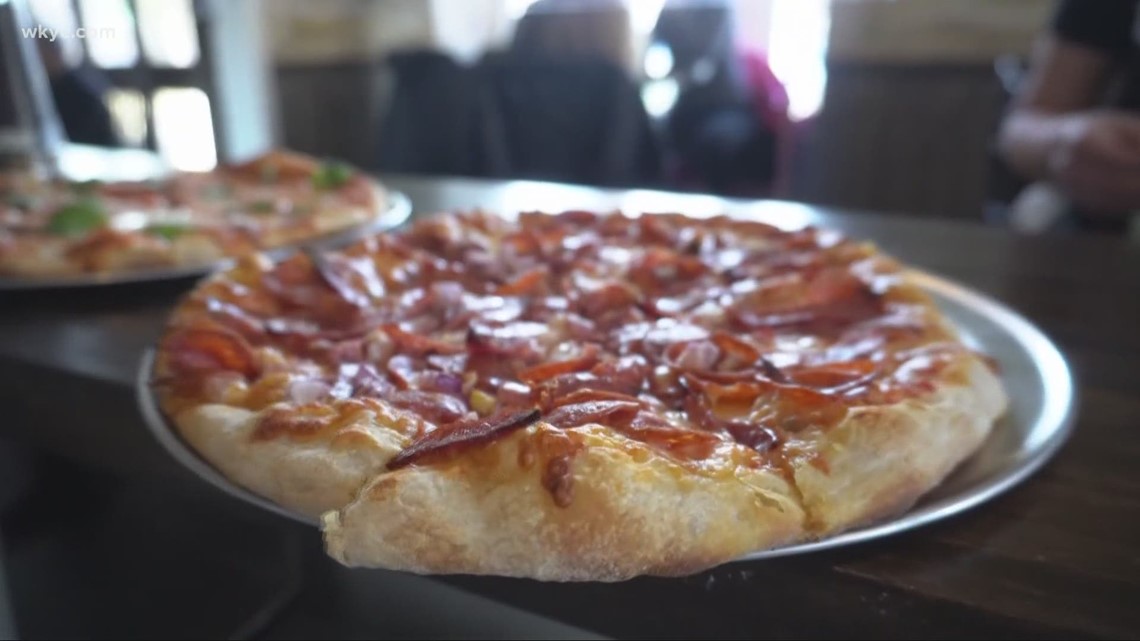 Any way you slice it, pizza is the best. Now, you just need to choose where to order it from.
CLEVELAND — Are you looking for a good slice of pizza? We've got you covered! From Salted Dough in Broadview Heights to Chatty's in Bay Village, 3News' Doug Trattner has a tasty list of 10 great pizza joints you can explore throughout Northeast Ohio. How many of these have you visited? What's your favorite pizza spot?
This feature is part of the ongoing "Save Our Sauce" campaign, which is being done to help show support Northeast Ohio restaurants amid the COVID-19 pandemic.
RELATED: Watch 'Save Our Sauce' documentary: Donate here to help restaurant workers in Northeast Ohio
Salted Dough: 9174 Broadview Rd, Broadview Heights 
Jeff Fisher, veteran of such places as Crust and Touch Supper Club, opened Salted Dough in Broadview Heights because every neighborhood deserves great food. Fisher knows dough, and the pizzas that exit the brick ovens in the open kitchen are perfect from the bottom up. Those pies are joined on the menu by panzanella salads, meatballs in sauce, ravioli and gnocchi dishes, and nightly specials like salmon Oscar.
Noce: 125 Main St, Chardon
This adored Chardon eatery offers a selection of unique pies that range from traditional to unconventional. Sure, you can enjoy a satisfying margherita or pepperoni, but why not go a little wild with something like the Thai shrimp, which marries seafood with spicy peanut sauce? In addition to all those pies, Noce offers a nice selection of freshly prepared salads.
Chatty's: 28611 Lake Rd, Bay Village
Longtime Michael Symon Restaurants team member Matthew "Chatty" Harlan recently opened this casual Italian eatery in Bay Village and the lines have yet to die down. Located within the Metroparks Huntington Reservation, the family-friendly bistro features two styles of pizza – New York and Grandma – along with charcuterie boards, burrata salads, and meatball sandwiches. Beer, wine, and cocktails are available as well.
DiLauro: 17800 Chillicothe Rd Ste 104, Chagrin Falls
Adam DiLauro parlayed success with a food truck of the same name into this retro-hip pizzeria in Chagrin Falls. In addition to 18-inch New York-style pies, DiLauro offers plush, mile-high Sicilian-style pizzas. Diners also can enjoy great salads, charcuterie, and sliced-meatball sandwiches. The offerings are capped off with house-made cannoli, gelato sundaes, and affogatos.
You can view the whole menu, here
Sweet Basil: 26235 Center Ridge Rd, Westlake
For nearly 15 years, Sweet Basil has been the go-to place on the far west side for amazing Neapolitan-style pizzas. While not baked in a wood-fired ovens, the pies are equally ethereal, sporting thin, chewy crusts, quality toppings, and impressive arrangements. From the thoughtfully composed artichoke and pesto white pizza to the better-than-it-sounds gyro pie with gyro meat, feta, and tzatziki sauce, there is a combo for every mood.
Il Rione: 1303 W 65th St, Cleveland
From the start, Il Rione was cut from a different cloth than its brethren. This Detroit Shoreway pizzeria features a hip, lounge-like vibe with a great wine list and full bar. Fans of massive New York-style pies will be in heaven here, thanks to textbook versions like the spicy Diavolo with chiles, salami and mozz and an epic clam pie dotted with chopped clams, salty pecorino, garlic, and fresh parsley.
They closed up shop for almost the full pandemic, but are happy to be back serving their signature thin-crust pies with a light and fluffy crust. Stop in or order online today.
Citizen Pie Roman Cafe: 15710 Waterloo Rd #1660, Cleveland
Fans of wood-fired Neapolitan-style pizza likely are familiar with the Citizen Pie pizzerias located in Collinwood and Ohio City. But Roman Café, which owner Vytauras Sasnauskas opened last year on E. Fourth Street, operates completely differently. Step inside and you'll see a wide selection pre-baked rectangular slices. After a quick blast in the oven – either in the shop or back at home – the Roman-style pizza is crisp, light and wholly unique.
Get information about either shop online.
Ohio Pie Co.: 1315 Pearl Rd, Brunswick
If you're going to claim ownership of your state's pizza style, it better be good. Owner Nick Robson describes his crust as mid-thick and buttery, topped with subtly sweet sauce, and edge-to-edge cheese. The round pies are square-cut. Guests can design their own pizza from a list of toppings or go with a specialty pie like the Heartburner featuring double pepperoni, double cheese, and double garlic oil.


Check out all those toppings and the other Ohio Pie Co offerings, here.
Sainato's: 1852 Columbus Rd, Cleveland
Located near Rivergate Park, steps from the Cuyahoga River, this family run Italian eatery has been dishing up incredible fare at various locations around town since 1972. The menu goes well beyond pizza, with delicious salads, starters, sandwiches, and pastas, but the pizza takes the cake. Sporting a chewy, buttery crust, heaps of cheese, and quality toppings like zesty sausage, these pies draw people from miles away. Both round and square-cut are available.
It's not the easiest pizza to secure, but Corner Spot is worth the hassle. Hopeful diners must first get on an email list, place an order before all available slots are filled, and pay via Venmo. There's no store to speak of, just a ghost kitchen and a meeting place for the handover. On the other end of the bargain is killer Detroit-style pizza that is fully cooked but not hot. After a few minutes in a hot oven, the pizzas exit with crisp corners, sharp edges, and buoyant centers.
Check them out on their instagram at @cornerspotcle
RELATED: Try these 10 restaurants in Akron from Luigi's to Ken Stewart's: Save Our Sauce